Carts are becoming increasingly popular in France. Indeed, they have many advantages: accessible to all and for all budgets, no practical test to pass, easy to use, perfect for city life...
Nevertheless, they are still unknown and there are questions about how to use these mini-cars, which have some differences compared to our "traditional" cars... It is therefore logical to ask questions about how to drive a licence-free car.
In reality, it is quite simple. However, a minimum of training is recommended to ensure that you get the hang of your future vehicle without a licence.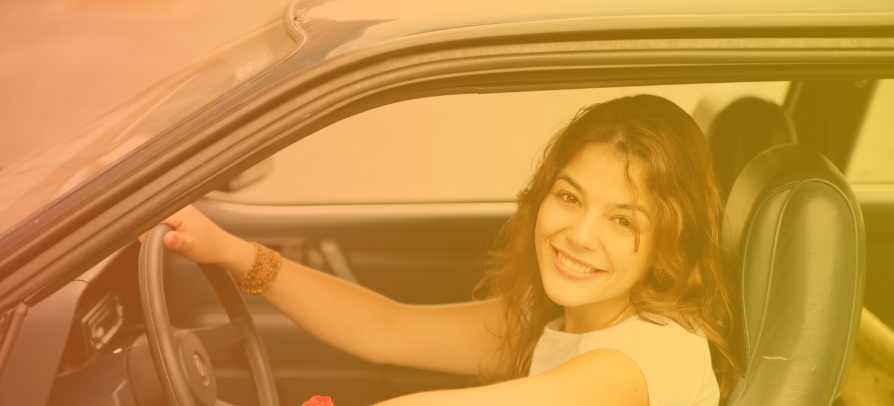 How to drive a quadricycle: small and easy-to-use cars
To drive a licence-free car, you need an AM licence. This training allows the new driver to learn how to drive and to be able to take the road at the wheel of their small car.
These cars are known as "licence-free" cars because they do not have to pass the highway code test or the practical driving test. Designed for simple and easy driving in built-up areas, they allow freedom without dependence on public transport. They are ideal for young drivers from the age of 14 who are looking to gain autonomy and for parents who often act as "taxi drivers".
Licence-free cars are driven like conventional cars: with pedals, a steering wheel and, in this case, an automatic gearbox. However, their maximum speed is 45 km/h and only 2 people can get in: the driver and a passenger (for accessibility from 14 years old). The "4-seater" and 80 km/h models are available from the age of 16.
Small and light, they are easy to manoeuvre and park.
Thanks to their closed interior and four wheels, they are more stable and secure than a two-wheeler: you are protected from the weather and external aggression and can carry objects. They offer real comfort in mobility and a wide range of advantages that have nothing to envy to classic cars, meeting your criteria.
Finally, they allow for early learning to drive with a licence. Indeed, those interested in taking the driving test will already have gained experience and comfort, which may influence their success rate. However, driving a car without a licence is not a substitute for supervised driving and accompanied driving. This is because they concern vehicles with a compulsory B licence and no power limit.
Driving a licence-free car: the AM licence, a theoretical and practical training
Getting behind the wheel for the first time can be intimidating, even on a cart with limited maximum power.
The AM licence (formerly known as the BSR, brevet de sécurité routière, or road safety certificate) prepares new drivers to drive in towns and cities. It is available at the age of 14 and is only required for people born in 1988 and after.
To take to the road safely, theoretical training is compulsory to drive a quadricycle. Prior to this, future drivers must obtain the ASSR (attestation scolaire de sécurité routière). These certificates are generally taken at secondary school and are obtained in the fifth and third years of school. They provide an understanding of the road environment: road signs, speed limits, and an awareness of all risks.
They are different from the highway code exam, which allows you to take the driving licence, the "B" licence.
Future drivers must also undergo practical training consisting of 8 hours of driving. Accompanied by a driving school instructor, they can learn how the car works (pedals, mirrors, etc.). These are real driving lessons.
Your driving school will train you to handle the vehicle without a licence, to manoeuvre it, to park it safely in an area away from traffic. Then you will be able to get comfortable behind the wheel and drive in real conditions.
Most of quadricycles have an automatic gearbox, which makes learning to drive easier.
How to drive a licence-free car: do you need special skills?
Young drivers will develop their driving skills: reflexes, automatisms... thanks to their training for the AM licence.
If necessary, a medical check-up can be carried out to ensure that the driver is safe to drive.
Although this title is available from the age of 14, driving licence-free vehicles requires the same care as driving a conventional car or any motorised vehicle. Even though PSVs are less powerful and slower than other cars, they present the same risks.
It is therefore necessary to concentrate on driving and to remain alert to regulations and other road users.
Driving is a real learning experience with several essential points to work on and develop:
Attention and observation. The environment around the vehicle can change suddenly: traffic lights, weather, children running... You will learn to develop your sense of observation.

Anticipation. The behaviour and actions of other road users and pedestrians can be anticipated: it is therefore necessary to adapt one's driving to limit the risk of accidents.
You will soon be able to try out our Tiny vehicles free of charge in order to get to grips with them and feel at ease before buying or renting.
Driving a licence-free: what specific rules apply to these cars?
Please note that mini-cars are subject to special rules. Users are not allowed to drive on :
Motorways
The expressways
and peripherals.
They are rather reserved for city mobility, but it is still possible to drive on national and departmental roads.
How to drive a licence-free electric car in good conditions?
Before taking your vehicle in hand, check the following points:
Be in possession of your AM licence and your identity papers in case of an inspection.
Have insured the vehicle (with at least third party liability cover).
Have charged the vehicle. If you drive a Tiny, you don't need to find a charging station thanks to its removable and portable batteries.
In summary, what should you remember about driving a car without a licence?
They have been designed to be easy to use and accessible to as many people as possible.
The AM licence required for driving will teach you to use the vehicle (handling, ease of use, driving with an instructor, etc.) and to understand the road environment (users, signs, etc.).
The practical training will allow you to develop your reflexes and automatisms.
Finally, don't forget the compulsory documents that may be requested by the police in the event of a check (AM licence, insurance/green card, registration certificate/greencard).
Our licence-free car Tiny offers a selection of advantages. This makes it the perfect urban vehicle for everyday commuting. Now you're ready to drive it
 !