The AM licence is the licence for scooters and cars without a licence! Ideal for young people in search of independence and dependent on public transport.
The B licence, more commonly known as the 'driving licence', is required for conventional cars. The A licence is the motorbike licence.
The AM licence, previously known as the Road Safety Certificate, is intended for young drivers from the age of 14 who wish to drive light quadricycles and mopeds. The cost can vary between €150 and €400.
AM licence: what exactly is it?
Since 19 January 2013, the AM category of driving licence replaces the BSR, which allows you to drive :
mopeds (two-wheelers such as scooters, three-wheelers such as motor tricycles, with an engine capacity of 50 cm3 or less)
light quadricycles (licence-free car/van, with power up to 4 kilowatts, and a maximum speed of 45 km/h).
Finally, it is accessible to those aged 14 and over.
Persons born after 1 January 1988 must hold the AM licence to drive this type of vehicle. People born before this date are exempt: they do not need any training.
For people with a driving licence (motorbike licence A or car licence B), the AM licence is automatically granted. Early learning to drive (such as accompanied driving) is not the same as an AM licence, they are two different things.
Be careful not to confuse this with certain categories of motorbike licences, which require passing the motorbike code and validating the specific tests for motorbike licences: the plateau and traffic:
A1 licence: from the age of 16, a minor can drive a light motorbike from 50 to 125 cm3
The A2 licence: from the age of 18, allows you to drive intermediate power motorbikes with or without a sidecar
These A1 and A2 licences are obtained from motorbike schools.
What is an AM licence and how do I get one?
There are two stages to obtaining an AM licence:
Theoretical training
Practical training
Theoretical training consists of passing the school road safety certificates), which are generally taken at secondary school in the fifth and third years. You can also register with apprentice training centres or GRETAs. These attestations are also necessary for the driving test. So be sure to keep them.
This theory test is free. It consists of a multiple-choice questionnaire to validate your knowledge of general road safety rules: signs, speeds, etc.
Finally, the practical part consists of an 8-hour driving course. With a driving school instructor (or an approved trainer from a social rehabilitation centre), you will learn to drive the vehicle and manoeuvre it: use of the pedals, automatic gearbox, etc., off the road and on public roads. This is a safe driving course, which has allowed you to become familiar with the road safety environment and to raise awareness of the risks.
The young driver does not have to pass the highway code or the driving licence!
At the end of the compulsory training, you will have an AM licence! Freedom is yours!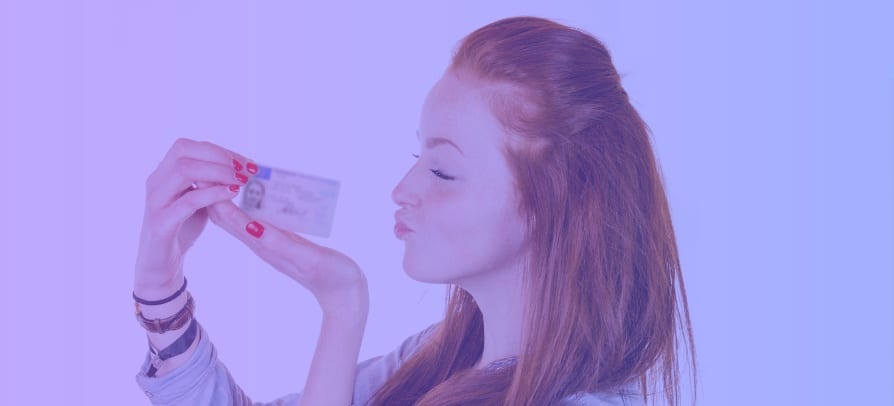 AM licence: How much does it cost?
The theoretical training is free.
On the other hand, practical training with driving lessons can cost between €150 and €400 depending on the driving school.
For your registration, you will need these documents:
An identity document (identity card or passport)
Identity photos
Proof of address
The school driving certificates if you are subject to it (people born in 1988 or later)
The individual certificate of participation in the Defence and Citizenship Day for those under 25 years of age (or summons or certificate of census)
What is it: AM licence and offences?
When you don't respect traffic rules, It is normal to be punished because you can endanger the lives of other users, even when driving a scooter or a mini-car. The AM licence is no exception to this rule and an offence can happen very quickly.
A fine may be imposed in the event of non-compliance with traffic or parking regulations, use of a telephone while driving, lack of an insurance certificate, etc.
More serious offences are misdemeanours, which carry a heavier penalty: driving under the influence of alcohol or drugs, resisting arrest...
As the AM licence is not a points-based licence, it is not possible to lose points. On the other hand, it is quite possible to pay fines (the amount of which varies depending on the offence) or even prison sentences (depending on the offence, often for serious cases).
The AM licence cannot be invalidated or cancelled but a judge can ban you from driving any motor vehicle for up to 5 years.
Finally, driving a vehicle without a licence without presenting the AM licence when checked by the police is a fineable offence.