Unlike a two-wheeler or three-wheeler (tricycle), a quadricycle is, as the name suggests, a four-wheeled vehicle designed to carry people or goods. Quadricycles are distinguished by a smaller engine capacity, i.e. a limited engine, compared to a more conventional car. As a result, they cannot exceed a certain speed.
A distinction is made between :
heavy quadricycles
and so-called light quadricycles.
Each is subject to specific regulations, such as speed and total weight limits.
In common language, a quadricycle is often referred to as a licence-free car, a micro-car or even a small car. 
These licence-free cars do not require a conventional B car driving licence. Therefore, a school certificate of road safety and a supervised theoretical training programme in a driving school will suffice. Once in your pocket, this AM licence allows you to drive a light quadricycle
If we refer to the dictionaryIn the strict sense, a quadricycle is "a four-wheeled cycle or motorbike". However, in technical terms, a quadricycle does not refer to a bicycle but to a motorised car with an empty weight not exceeding 350 kg and a speed not exceeding 15 kilowatts.
Quadricycles also include small licence-free cars, quads, agricultural tractors or agricultural machinery. These four-wheelers can be driven with either a manual or automatic gearbox, depending on the model. The choice is yours according to your driving preferences and your purchasing criteria.
These vehicles are classified into two categories:
L6e light quadricycles and
L7e heavy quadricycles.
What is a motor quadricycle?
Technically identified as L6e, this type of vehicle is characterised by :
A maximum weight of 350kg
A maximum speed limit of 45km/h
A maximum displacement of 50 cm3 or 4kw.
Tiny, an electric quadricycle or licence-free car, is a light quadricycle.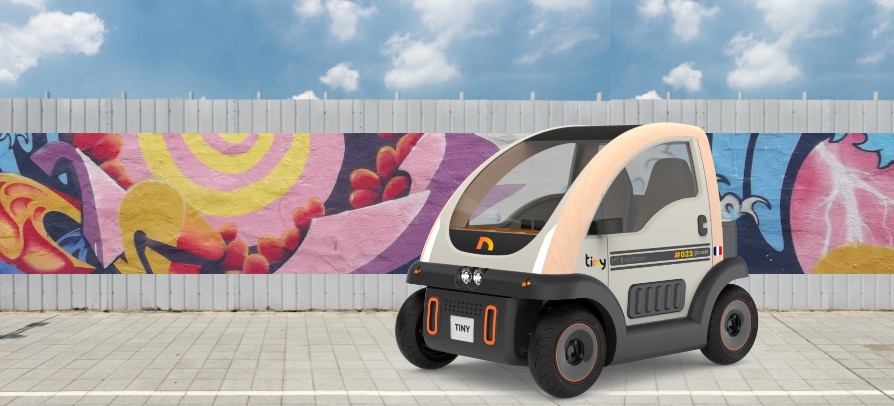 What is a heavy quadricycle?
With limited power and weight for different purposes such as transporting people or goods, heavy quadricycles belong to the L7e category.
Depending on the use, the engine capacity should not exceed 15kW (kilowatts), which is equivalent to 20.4 horsepower (maximum power). If it is a question of transporting people, this type of vehicle will have an empty weight of 400kg. And in the case of transporting goods, the quadricycle is allowed to carry up to 550 kg. While the light quadricycle can travel up to 45 km/h, the heavy quadricycle is allowed to travel at a maximum speed of 90 km/h or less. Exceeding 90 km/h will result in a fine.
What licence do I need to drive a quadricycle?
Light quadricycles, L6e vehicles require an AM licence, which requires road safety certificates and accelerated theoretical training in a driving school. This AM licence is compulsory for vehicles such as licence-free small cars and light quads, with a maximum power of 50 cm3 and a speed not exceeding 45 km/h. To complete the picture, the legislation allows you to take this licence from 14 years or older. These vehicles are perfectly suited for young drivers if you want to start learning to drive in the city early on: understanding braking distances, driving on public roads while respecting signs, automatic driving without a clutch, etc.
As for L7e heavy quadricycles.The B1 car licence will be one of the requirements for driving it. The legal age for this licence is minimum age of 16. More demanding than the AM licence, the motorists concerned must pass the highway code exam (theoretical test) as well as a practical driving test. You can obtain information from driving schools that offer lessons and training in driving these heavy quadricycles.