Meet with Christian van Oost, CTO of the Tiny project, a passionate car designer!
Could you introduce yourself?
My name is Christian van OOST, I am an engineer and designer by training. I have worked for several large automotive groups, in France and abroad (Renault, Volvo, Psa, Valeo, Pininfarina, Audi, Dong Feng...) for which I have carried out various projects and concept cars:
Renault Scénic & Racoon,
Audi Al2 (Frankfurt and Tokyo),
Pininfarina Dardo,
Peugeot E-Doll & Cameleo
The whole design part of Richard Berry's film "The delicate art of seduction".
In 2004, I created my first company, CvOracing, in Le Mans, in which I developed and marketed my own competition vehicles, sport-prototypes for endurance races.
In 2008, I created CvOdesign which is a Design & Engineering office based in St-Nazaire.
We have completed several major projects there, including :
Fire trucks for Sides,
An electric vehicle for inclusive learning to drive,
Autonomous vehicle interior for CES in Las Vegas
You joined the Tiny project management team a few months ago, could you explain what attracted you to this project?
A good project starts with a team and an idea!

I was seduced by the positioning of the project, its differentiating aspect and the challenge it represented to bring this concept to fruition. It was far from easy, but I don't like easy things.
Moreover, the values conveyed in this project are those of CvOdesign for several years now, so yes, I found myself in this project.


And then I was reassured by the two founders and the team in place who were not from the automotive world but who provided the necessary complementarity to form a solid team
Tiny is a new disruptive simplified and decarbonised mobility solution, do you think the automotive sector is mature enough to see vehicles based on bio-based materials like Tiny?
For several years now, with the arrival of electric vehicles and alternative energies, we have been
We are living in a new automotive era, a bit like the beginning of the history of the automobile. We are witnessing the emergence of a whole host of small manufacturers who are proposing and inventing new mobility solutions.
Society and needs have changed enormously, consumers want something different. There is no longer a single answer, but the need to adapt to very different uses with relevant, targeted products that can use a wide variety of technologies
En amont du projet, le designer automobile a un rôle central dans la conception d'un véhicule automobile. Quels sont les défis majeurs auxquels vous devez faire face de manière générale et plus spécifiquement dans le cadre de la conception de Tiny ?
Tiny is a complex project because it is minimalist: tight budget, limited weight, ultra compact dimensions...
It's always more difficult to do a project with a lot of constraints, than a more free project. But as I
It is often said that the more constraints there are, the more opportunities there are to be creative.
For this project we faced many challenges and in the end we have a vehicle that does not have
many of the conventional solutions usually used in the rest of the automotive world.
Our chassis, the trains, the suspensions, the materials, the power unit... everything is different and unique.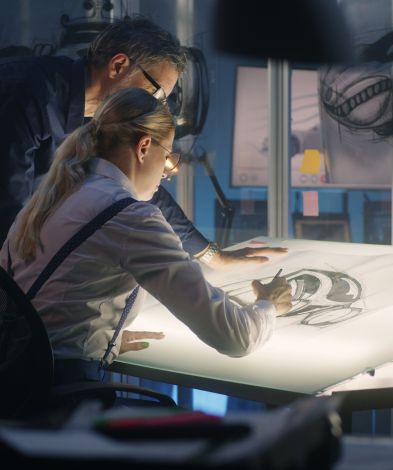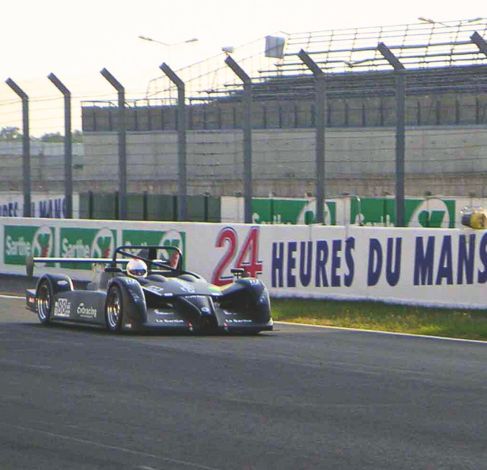 What are the essential ingredients for good design and what is the ideal creative process?
There are two main approaches in the world of automotive design:
From the outside in, this is styling
From the inside out, it's design
In other words, to put it simply:
Styling determines a shape and makes everything fit into it
Design defines uses and focuses on the user experience to design a more relevant product
(Form = function)
Obviously, I prefer the second approach. As a reminder, good design is based on 3 values : Identity / Uses / Technique.
Designing a car from scratch is certainly very technical and a long-term project. What are the usual timeframes for developing a vehicle such as Tiny?
The deadlines vary greatly depending on the type of project, but also on the type of company.
In the case of the major manufacturers, on average, to bring a new vehicle onto the market between the 1st sketch and the final product, it takes about 5 years.
But a concept car takes a year to make. And the fewer iterations you do, the more you can reduce that time. As in any project, the type of management also plays a role. The more people involved in the decision making process, the longer the time frame. This is why a small structure will always be more agile and will reduce the design time. For the Tiny project, our development schedule was reduced to 30 months.
As an automotive designer, you are certainly on the lookout for new trends. Are there any sectors or brands that inspire you?
A good designer is constantly on the lookout, and if possible on a broad lookout, which means on the lookout for worlds that are not always related to the product being developed. When I was designing headlamps and lights for Valeo, my watch worlds were, for example, jewellery, concert stages... worlds where there is lighting, light diffusion and material and colour effects. This allowed me to find inspiration different than by looking at the headlamps & lights of other existing vehicles.
Does the strong development of electric vehicles impact your way of working and do you have to question your approach?
Of course we do. We develop our own vehicles, both racing and road cars, and this may come as a surprise
some people, but we abandoned the use of any combustion engine a long time ago.
fifteen years now. 
This does not necessarily mean that we are going all electric. As technologies evolve very quickly, we have to be aware of everything that may exist in the short or medium term. This requires a great deal of monitoring, but also the ability to form partnerships to move forward more quickly.
Do you think that Tiny has a place to take in the mobility market? And if so, what is it?
With the arrival of the Citroën Ami on the market in 2020, the whole VSP market has been pulled up. There is currently a very high demand in this field, and this is not going to stop any time soon. We are witnessing an inflation in the price of new vehicles, for services that are no longer at all in line with everyday use. This is why people are increasingly interested in a mobility product rather than a car.
What is your approach to designing a new car model?
Comme en toute chose il faut être ambitieux. Et en ce qui concerne mes créations, au risque de vous choquer, je trouve qu'une nouvelle création automobile n'a de sens que si elle peut apporter quelque chose à l'histoire de l'automobile. Si on fait juste une nouvelle voiture pour en faire une nouvelle, cela n'a pas beaucoup de sens, c'est même plutôt en désaccord avec les préoccupations environnementales actuelles. C'est juste un produit de plus parmi les autres produits. Donc mon approche, c'est l'ambition, la volonté de se différencier et d'apporter quelque chose de nouveau.
How do you work with other professionals, such as engineers and manufacturers, to achieve your design vision?
When we develop a new project, we set up a project platform with all the skills needed for the project. 
Depending on the project, it is not always the same skills. The choice of team is very important. And I think it's also really important to be able to integrate all these skills and professions from the very beginning of the project, so that you can really co-create the project. This is often more efficient. For example, we don't wait until the approval phase to involve an approval engineer. The same goes for the manufacturing phase, where we often find solutions together and save time and money.
How do you ensure that your design work meets the needs and expectations of clients while remaining true to your creative vision?
A good design approach is based on an analysis of user needs. This preparatory phase is This preparatory phase is essential to the success of the project and its suitability for the target. From this analysis, a set of conceptual specifications with constraints. Each constraint is met with a solution. The set of solutions constitute a concept. Creativity does not therefore consist of starting with a blank sheet of paper and filling it with ideas from nowhere. ideas from nowhere but is based on analytical work. Creativity then consists of finding original original solutions for each proposed constraint, and you can imagine that there are almost infinite possible possible answers for each problem.